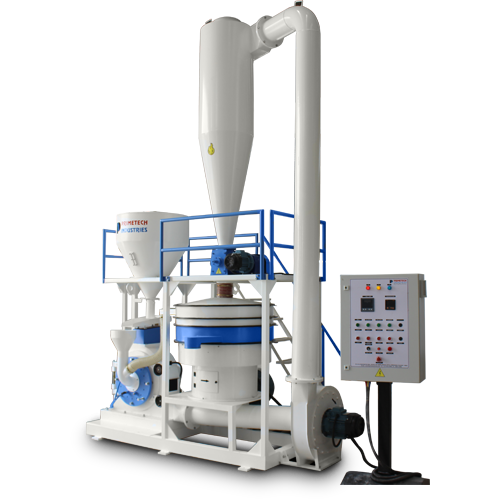 High Speed Precision Pulverizers
Precision Grinders
The Primetech PP-series of disc pulverizers are high speed, precision grinders for the processing of medium hard, impact resistant and brittle materials. Typical applications are the pulverizing of granulates from plastic profiles, tubes, sheets, edge trim materials, film waste and also products from the food, chemical and pharmaceutical industry. The material to be pulverized is introduced through the center of a vertical fixed grinding disc which is mounted concentrically with an identical high speed rotating disc. Centrifugal force carries the material through the grinding area and the resultant powder is collected with a blower and cyclone system. The Primetech PP series have several technical advantages which ensure ideal performance and operation.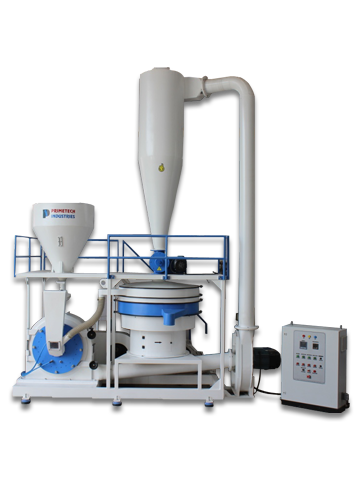 Applications
Lldpe for Rotomoulding ,
Recycling of RPVC,uP.V.C,cP.V.C, soft PVC, PU & UHMW .
Master-Batching application and various thermoplastic material.
We Offer
One-Piece grinding disc German imported high graded alloy steel
Superior grinding disc Surface treatment to boost up its wear life
Latest bearing technology
Easy adjustments of disc gap
Unique Design of Housing
High efficiency Blower &vibro-screen
Water & Air cooling technology
Your Advantage
Pulverizing without using liquid nitrogen
Excellent flow rate and mixing possibility of the powder
Compact construction, minimum space requirement
Most Economical and cost effective
Narrow particle size distribution with low fines content
Automatic Load and Temperature controlled
Fully automatic continuous operation
Safety interlock system